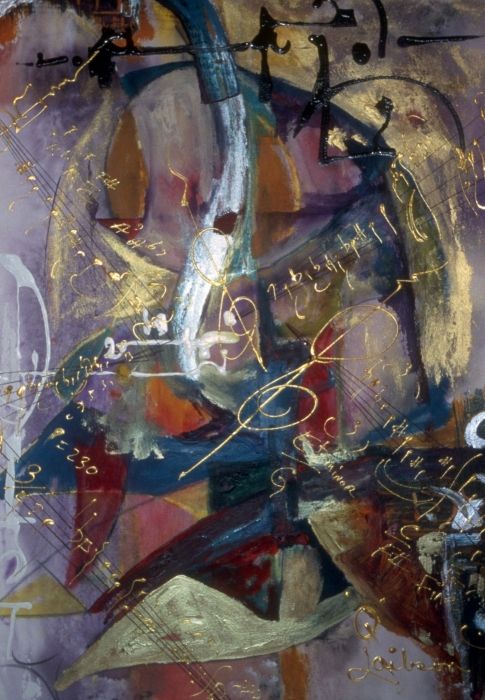 JEFF LAIBSON
MUSICIAN ~ VISUAL ARTIST
Enter the studio of artist Jeff Laibson and before you see the usual supplies, paints and other materials of one who paints, you encounter an 80-year-old grand piano that was given to him at the age of four. When most of us were scribbling with crayons, this child artist was studying music with his concert artist father. He began to paint at the age of seventeen. Jeff is not a usual painter. The artist is a renowned composer; a musician who has performed all over the world. Educated at the Berklee School of Music in Boston and the University of Miami, he later became a teacher of music at the same school. His newest CD, with Mark Egan and Danny Gottlieb, was just released in August of 2003 on Wavetone Records and is available for sale at CDBaby.Com. 
Just as with jazz and much of contemporary musical composition, the images I paint also are of an improvisational nature, inspired by my music whose styles range from jazz to classical, ethnic to rock.  The materials used in the paintings are acrylic (and/or oil) paint, watercolor, dyes, and charcoal on paper, canvas, drumheads, wood, and primed material.   With melody, rhythm, harmony, tempi, dynamics, phrasing and silence governing the art, the intention is to create an effect of how a visually represented image in the painted form might have been so inspired by the sound of the music, and vice versa.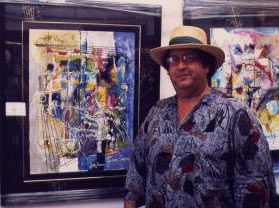 Jeff Laibson was our resident artist for The Jazz Network Worldwide for over 11 years. His art was the backdrop to all the artists who came through. His support was immeasurable. Thanks, Jeff for being one of our favorite artists, visually and musically!