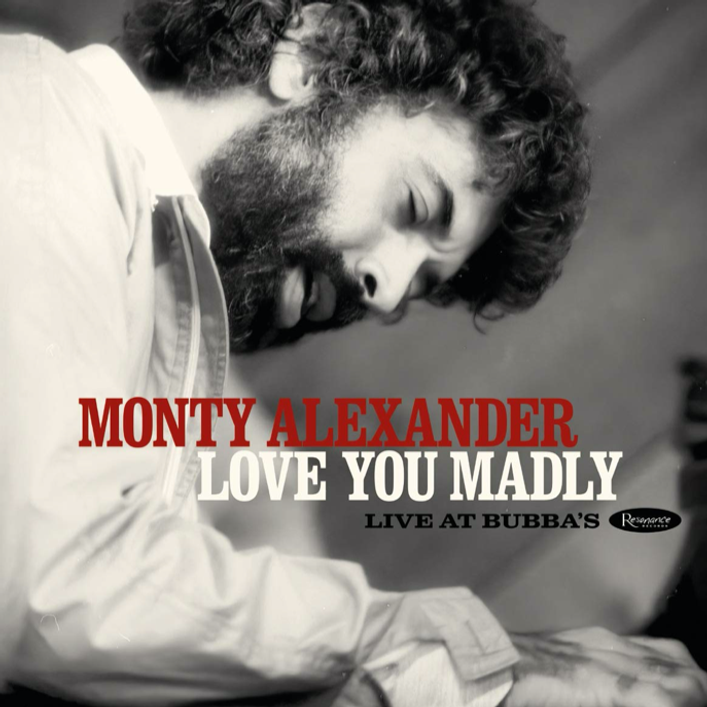 monty alexander
love you madly
LOVE YOU MADLY
Live at Bubba's is a previously-unissued recording of the Jamaican jazz piano icon Monty Alexander captured live in Fort Lauderdale, FL at Bubba's Jazz Restaurant on August 6, 1982. Recorded by legendary engineer Mack Emerman, Live at Bubba's features bassist Paul Berner, drummer Duffy Jackson and the acclaimed percussionist Robert Thomas, Jr. The deluxe limited-edition 2CD set includes an extensive booklet with photos, essays and interviews.
Love You Madly is the perfect title for a performance in time that led to a heightened momentum musically by musicians who were at the top of their craft with an audience that was right in the pocket with them. A "love fest' if you will. Bubba's was 'the hang' in those days, capturing this musical effort in time will truly be a keepsake for many.
This offering of "highlight" comes from a heart that remembers many a nights watching my big brother play his heart out for the people. I cherish those memories and how proud I felt to support all the sweat and tears that comes with his excellence. You see, my brother had his physical challenges in life and inwardly was a very deep thinker, with an extremely sensitive heart who always rose to the challenge of "putting the grin on the groove and the beat at your feet", that was his mantra. They say the way to heal sorrow is to remember, holding glimpses of life gone by to soothe your hearts vacancy… I choose to carry on with Duffy's smile within, his comical comebacks, silly licks on the drums and soulful nights of playing the piano Having the honor of promoting this musical effort hits home for me in many ways, for Duffy held Monty in the highest esteem, looked up to him like an older brother.  Monty had a way of taming Duffy's Duffyism's and he respected him for those lessons and became family to us all.
Monty states "I am heartbroken today at the news of Duffy Jackson's passing... but so glad that I knew Duffy as a 16-year-old and had the opportunity to have him play with me live and on several of my albums—I watched him through the years becoming this incredible drummer and I know he's in a better place playing with the big band in the sky. He exemplified passion and enthusiasm.
I'll never forget you Duffy! 
With eternal love,
Your pal Monty
"Duffy, I will remember the vibe of "The Jackson's" and will remember that 'Love Is The Answer' no matter how many lies are thrown at you in life. Stand tall, know the truth and keep growing and movin'.  I admired you all my life and that is what I will hold in my heart. Thank you for being my big brother through the good times and challenging ones. The truth in life, sets me free. I will always miss you. Love, Jaijai (Dean)